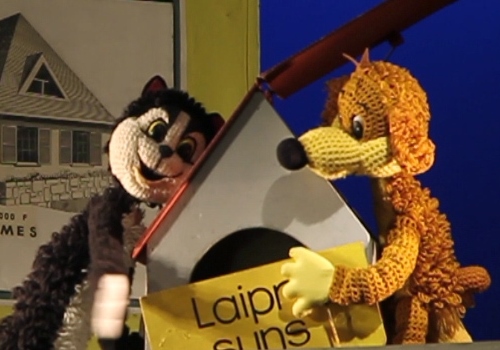 No publications added
Sandra24.10.2017.
Speciāli pirkām biļeti 1.rindā, lai neviens nesēž priekšā un būtu labāka redzamība, bet diemžēl no 1.rindas nevar pilnībā visu redzēt. Ir epizode, kur tiek apspēlēts caurums sienā, bet no pirmās rindas caurumu nevar redzēt. Ar epizodēm, kas norisinās tieši virs aizslietņiem viss ir kārtībā, bet vēl bija dažas epizodes, kas norisinājās tālāk un no 1.rindas tēliem varēja redzēt tikai pakaušus. Mums bija 3 vietas, bet diemžēl bērnu augstais krēsliņš bija uztaisāms tikai vienam no mūsu 3 krēsliem. Citiem skatītājiem arī bija novērojamas problēmas.
Zane24.10.2017.
Izrāde patika gan trīsgadniekam, gan vecākiem. Parīzes noskaņa un mīļas dziesmas. Nopirkām CD un vēl tagad mājās klausāmies: Krustmāte Agate mīļa kā svētdiena Pirmajā vietā viņa mums ir Tikai pēc viņas nāk putu krējums, putu krējums un saldējums
Līga21.11.2017.
Milzīgs PALDIES par sniegto prieku! Pašai bija sajūta, ka esmu atgriezusies bērnībā. Abi ar dēlu izsmējāmies, padziedājām un jutām līdzi Pifam. Paldies par pozitīvajām emocijām, ko sniedzāt mums. Sen pēc teātra apmeklējuma nebiju jutusies tik pacilāta!
Kika21.11.2017.
Diemžēl ļoti vīlāmies jau pirmajā leļlu teātra apmeklējumā - absolūta sižeta neesamība, pirmais cēliens, kas vairāk atgādināja multfilmu "Toms un Džerijs" (kaķis sit suni) un otrais cēliens, kur suns atriebjas kaķim. Nekāda saistība ar iesākto sižeta līniju - Pifam šodien dzimšanas diena. Dziesmas gan bija skaistas, bet tās vairāk mērķētas uz pieaugušo auditoriju.
Feedback submitted!
* Ja atsauksme neatbilst vispārpieņemtām normām, Leļļu teātris ir tiesīgs to nepublicēt
Adventures of Piff
Un atkal Pifs...
Duration: 1:20, 2 cēlieni
Recommended age: 3+
Stage director: Pāvils Šenhofs, Arnolds Skutuls
Stage, puppet designer: Pāvils Šenhofs
Composer: Ivars Vīgners
Texts of songs: Jānis Peters
Puppet sculptor: Marga Austruma
About performance
A dog named Piff and his "friend" a tomcat Hercules, Aunt Agathe, Uncle Tonton, Doudou and Rosalie are the characters that need no introduction neither in France, where a caricaturist José Cabrero Arnal created them more than half a century ago, nor here in Latvia, where many generations have grown up with a captivating comic book and the beloved puppet show on the Adventures of the dog Piff.
The never-ending squabbles between the warm-hearted Piff and his rival, the wily cat Hercules, have been staged several times over the years and form a part of the Theatre`s Golden Collection. The wonderful melodies composed by Ivars Vīgners have won the hearts of many listeners and list among the classics of Latvian children`s music.