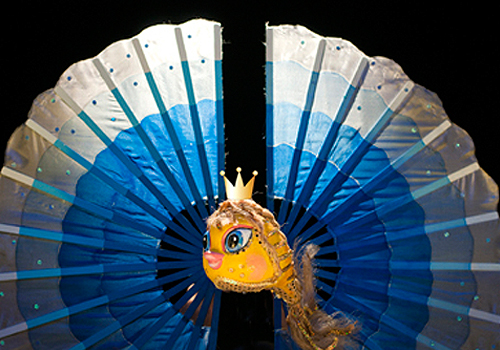 No publications added
Feedback submitted!
* Ja atsauksme neatbilst vispārpieņemtām normām, Leļļu teātris ir tiesīgs to nepublicēt
Tale of the Golden Fish
Сказка о золотой рыбке
Duration: 0:45, 1 cēliens
Recommended age: 4+
Stage, costume, puppet designer: Ilze Vītoliņa
Puppet sculptor: Marga Austruma
About performance
The Tale about the Golden Fish is found in different cultures throughout the world -Swiss, Dutch, Turkish, French, Croatian, Japanese, Far East, as well as in the Latvian folklore.
More than a hundred years ago a famous Russian author Alexander Pushkin wrote his "Tale of the Golden Fish". It is part of the cycle "Magical Tales" and has been translated into 109 languages.
This tale is an ageless story that speaks across generations with its reaffirming message. Unlike the folk tales, where the fisherman`s wife is simply punished for her greed, the poet contemplates on the very essence of human being and a person`s ability with gratitude to accept the things God gives, leaving greed and anger aside.