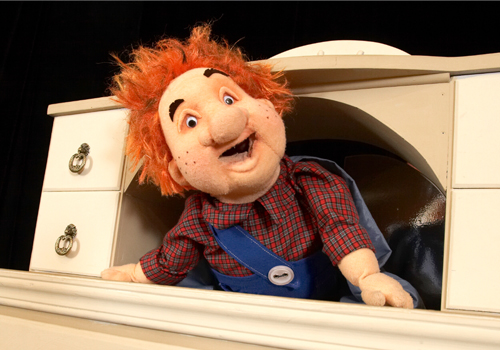 No publications added
Jānis11.07.2013.
Kādā pavisam parastā ielā, pavisam parastā mājā Stokholmā vai varbūt tepat Rīgā dzīvo pavisam parasts zēns Brālītis. Un tomēr viņš nav pavisam parast zēns, jo viņam ir visneparastākais draugs pasaulē. Mazliet tukls, īss vīriņš pašos spēka gados, kas dzīvo namiņā uz jumta. Karlsons baida zagļus, ēd saldumus un izjoko bargo Bokas jaunkundzi....ar viņu pavadīt laiku ir tik jauki!
Signe02.10.2014.
Bērnam patika, kaut gan nedaudz sabijās no laupītājiem, bet man nē, jo likás jocīgi, ka personàži runā skatoties uz zăli nevis viens uz otru, un zemtekstā jūtama tāda jocīga ņirgàšanás par brālīti un punktu pielika pavisam slimā brālīša māsa...
Anna19.11.2014.
Es atnācu ar 2,5 gadīgu meitiņu, un man par izbrīnu viņa visu izrādi nosēdēja, lielām un prieka pilnām acīm skatīdamās, beigās aplaudēja līdz ar citiem, un bija tik laimīga! :) Pēc tam 3 nedēļas no vietas man stāstīja par Karlsonu savā bērna valodiņā. :) Tāpēc uz so burvīgo izrādi var iet arī ar mazākiem bērniem! ;)
Santa07.04.2015.
Es biju ar savu 4-gadīgo meitu. Viss bija lieliski, izrāde viņai un man patika. Meitai nepatika tas pirotehnikas būkšķis izrādes pašās beigās. Viņa man it kā nav bailīga meitene, salūtu skatās ar prieku, bet tas pārsteiguma būkšķis viņu mazliet sabiedēja. Man šāda pieredze nebija bijusi, turpmāk cītīgāk izpētīšu izrādes aprakstu.
Teātra mīlis16.06.2015.
Būtu ļoti jauki, ja šai izrādei Maestro rakstītā mūzika tiktu ierakstīta albumā. Teātrim vajadzētu rosināt kādu uz šādu ideju. Būtu ļoti žēl, ja šī mūzika paliktu tikai izrādes ietvaros. Ar albuma palīdzību šī mūzika izietu plašākā publikā
Aija29.02.2016.
Paldies par lielisko izrādi! Bērniem ( 4 un 7 gadi)ļoti, ļoti patika un vecākiem arī. Tas "būkšķis" beigās nedaudz nobiedēja tēti, bet bērni gan smējās kā kutināti. Novēlu, lai vēl daudziem izdodas izbaudīt šo pazīstamā stāsta variāciju.
AnnaP14.11.2016.
Izrāde ļoti interesanta! Aizraujoša gan dažāda vecuma bērniem, gan pieaugušajiem, un zālē bērni no sirds smējās un priecājās līdzi! Aktieri spēlē lieliski, raibas dekorācijas, interesants, spraigs sižets. Iesaku!!
Zane26.03.2018.
Bijām ar 4,5g. veco dēliņu. Izrāde ļoti patika mums abiem. Tā kā leļļu teātri apmeklējam regulāri, tad mājās jau bija leļļu teātra dziesmu disks. Dziesmiņu par Karlsonu dēliņš jau bija iemācījies labu laiku pirms tam, un izrādē ļoti priecīgs dziedāja līdzi!Patiesībā tieši tāpēc aizbraucām uz šo izrādi, ka dziesma viņam tik ļoti patika, ka pats jautāja, kad aizvedīšu uz Karlsonu!
Agnese26.03.2018.
Man ļoti patika Bokas jaunkundze un tētis, un Karlsona intonacijas, un viss. Manuprāt, daudz lieku ārišķību un skaļuma. Dēls (4 gadi) teica, ka patīk, bet bija nedaudz garlaikotāks nekā citas izrādes skatoties.
Anna11.02.2020.
Viena no labākajām Leļļu teātra izrādēm! Ļoti jautra, interesanta, smieklīga. Gāju ar 3-gadnieku. Viņam ļoti patika!
Feedback submitted!
* Ja atsauksme neatbilst vispārpieņemtām normām, Leļļu teātris ir tiesīgs to nepublicēt
Little Brother and Karlsson, who lives on the roof
Brālītis un Karlsons, kas dzīvo uz jumta
Duration: 1:45, 2 cēlieni
Recommended age: 4+
Costume, puppet and stage designer: Anita Znutiņa-Šēve
Composer: Raimonds Pauls
Texts of songs: Uģis Segliņš
Stage designer's assistant: Dace Rožlapa
Movement consultant: Lilija Lipora
About performance
In a very ordinary house, on a very ordinary street in Stockholm or maybe even here in Riga, lives a very ordinary boy - the Little Brother. But wait, he is not such an ordinary boy at all! He has a friend - the most extraordinary and amazing creature in whole the world – a very short and portly man in his prime, who lives in a small house on the roof. Karlsson scares burglars, eats a lot of sweets and plays tricks on the harsh and severe Miss Bock…what could be more exciting than that!?
The play "Little Brother and Karlsson, who lives on the Roof" is a performance for the whole family. Big or small will find something captivating in this play, whether it`s a magic tale about a funny, good-natured friend with a propeller on his back or a sparklingly humorous portrayal of a comical family.
The writer Astrid Lingren has devoted her novels to people and always supported those who were rejected or abandoned by a society. Karlsson always receives a warm welcome from both children and grownups. Meeting Kaslsson here in our Puppet Theatre, could stir up emotions and help to see the ways for improving and strengthening relations in the family and in society as a whole. That may remind parents how significant it is to raise a child in a family where kind-heartedness, empathy, generosity and trust prevails. How wonderful and colourful our world is, when we actually see and feel each other, we give and get back in return. We smile. Director Kārlis Auškaps thinks, that Karlsson is every person`s "Inner Me", which enjoys life, loves people and treasures goodness of heart and joyfulness above all. Karlsson, created by Astrid Lingren, is her legacy to us all – learn to accept and love, thus making the world a better place.
Warning: Pyrotechnics driven effects are used on the stage!