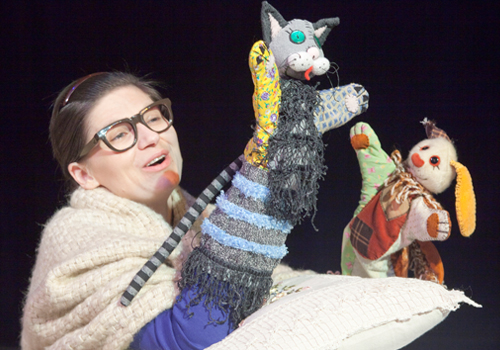 No publications added
Dace04.11.2013.
Brīnišķīga izrādei mazajiem bērniem, kas modina maiguma un mīļuma jūtas kā lielajiem tā mazajiem.
Anda23.02.2017.
Fantastiska izrāde! Patika gan man, gan manai mazajai divgadniecei. Tagad vairāk kā mēnesi katru vakaru klausāmies izrādes disku, un skaitām pantiņus. Aktrises darbs, mūzika, vienkāršā scenogrāfija - viss kopā izcili. Piekrītu Dacei - izrāde ir maiga, liega, apņem kā silta sega.
Feedback submitted!
* Ja atsauksme neatbilst vispārpieņemtām normām, Leļļu teātris ir tiesīgs to nepublicēt
Little Doll Lolite
Lellīte Lolīte
Duration: 1:00, 2 cēlieni
Recommended age: 2+
Stage, costume, puppet designer: Anita Znutiņa-Šēve
Composer: Arvīds Žilinskis
Arrangements: Raimonds Petrauskis
About performance
When I was a little girl, my granny used to read to me "Lellīte Lolīte" by Rainis. When I grew up, that was my mother who read "Lellīte Lolīte" to my daughter. Well, I am a grandmother myself now and this book still stands on my bookshelf.
Girls have always dreamed about beautiful dolls with sparkling eyes, while boys have craved for fancy cars with bright headlights. The fashion of dolls and car models may change eventually, but the experience once gained when playing will remain forever. The poetic cycle by a famous Latvian poet Rainis, accompanied by children songs written by Arvīds Žilinskis and arranged by Raimonds Petrauskis, tells the story about things essential at all times and generations - love, friendship, helpfulness, relationships, virtue of work, understanding of art, music and nature...